No matter the breed, dogs are capable of achieving incredible things in the world of dog sports and dog competition. They can win in top dog sports and come home and be the goofy lapdogs they are. This article will discuss the 5 dog sports to do with your dog.
Our dogs are not just loyal companions that make our lives better, but they are fantastic at working and playing. They are eager to please and they enjoy doing tasks and performing tricks. Dogs can do pretty much anything that they are trained to do.
Aside from the daily walks, the long car rides, the camping trips, and the outdoor adventures, dogs can compete in dog sports.
Dogs can show off their athletic abilities in any competition for dogs. Whether your dog is a fast runner, a capable swimmer, a high jumper, or a talented sniffer, you'll certainly find a dog sport activity that you can both enjoy together.
5 Types of Dog Competitions
Dog sports can be classified into five types of dog competitions. These are Obedience, Rally, Agility, Coursing Ability Test, and Scent Work.
These dog sports activities offer a fantastic opportunity to have fun with your dog and explore his athletic abilities.
Dog Obedience
Obedience work is a dog event that will help your dog to have mental and physical exercise.
This includes following commands like sit and stand and doing tasks like retrieving objects, jumping over hurdles, and more.
Rally
Rally is another fun dog sport where both you and your dog navigate a course, side-by-side.
You help steer him through ten to twenty different signs in the course.
Each sign provides instructions on what to do on the next skill that is to be performed.
You and your dog will earn points for completing the exercises correctly.
Rally challenges your dog's brain and body and at the same time immersing them in a fun and enjoyable activities.
Dog Agility Trial
Agility is an exciting dog sport that showcases your dog's speed, obedience, and athleticism.
Dog agility competition is a fast-paced sport that requires your dog to do amazing maneuvers in the agility course.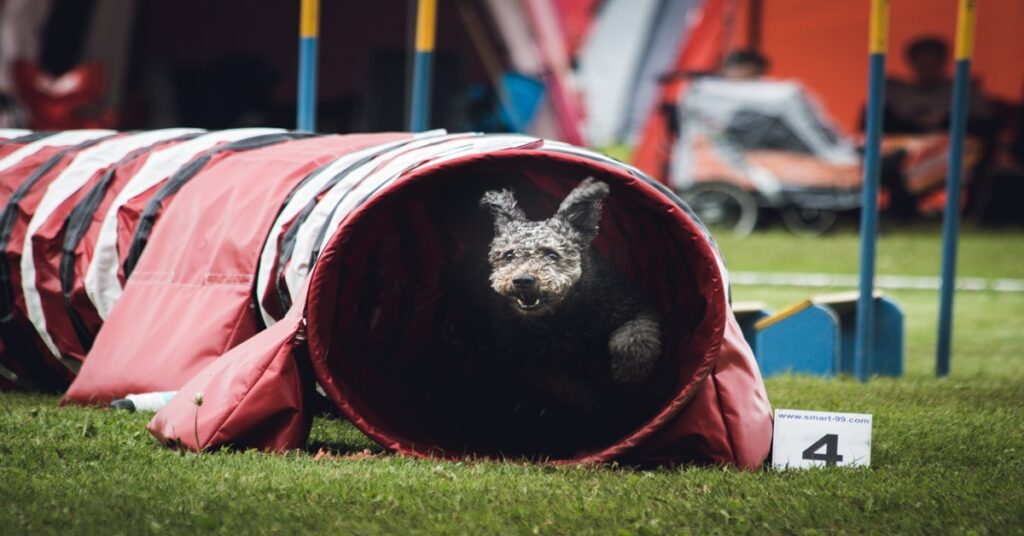 The agility course typically features a wide range of obstacles that your dog must complete.
Dog agility is for dogs that enjoy learning new tricks and love doing fun activities with their owners.
When dogs are trained properly with positive reinforcement, they are likely to look forward to agility class and agility competition.
Dog Coursing Ability Test
Coursing Ability Tests is designed for dogs who are new to the world of dog sports. Your dog will run a course while chasing a lure.
Dogs earn a pass or fail mark depending on whether or not the maximum time is achieved. As long as your dog doesn't walk, passing the test is not hard to do.
Dogs that like to run and chase are perfect for this dog competition. Training is not really necessary because the sports is something that comes naturally to dogs.
Dog Scent Work
Also known as nose work, scent work is a relatively new sport that is all about your dog's incredible sense of smell. Dogs have a more sensitive nose than humans that's why they can track, follow, and locate scents easily.
Hunting dogs and rescue dogs have been a tremendous help to the military and law enforcement. In scent work, the dog has to find the hidden target odor.
In this sport, the dog is in total control of the situation because his handler does not know where the target is. It's up to the dog's acute sense of smell to find what he needs to find.
Bonding with Your Dog
Dog sports, competitions, and events are great bonding activities with your dog. Joining in any of these sports is not only a source of exercise, it's also a way to have fun and enjoy the sports.
Your dog will thank you for it.